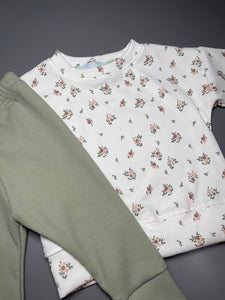 Tiny Flower Rib Loungewear
How Amazing is this Beautiful Neutral Rib Loungewear set. 
It is just pure perfection!
This set is just the ultimate in style and comfort. The quality of this fabric is just outstanding and is so beautiful to wear! Cosy long sleeve Top with matching leggings.
These are some of the new exclusive fabrics. These have been designed just for us and you will not find these fabrics available anywhere else!
Fabric: 96% Cotton & 5% Lycra Weight: 250gsm
All items are made using the very best Cotton Jersey - we do not compromise on fabric quality.