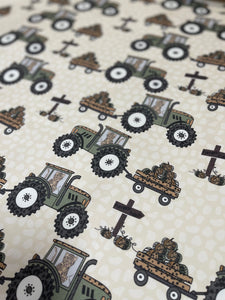 Wild Tractor Leggings/harems
How amazing are the Brand New Dino Pumpkins - perfect for Halloween
Fabric : 95%  Cotton & 5% Lycra
Weight: 250gsm
All items are made using the very best Cotton Jersey - we do not compromise on fabric quality.
Available in Leggings or Harems.
Leggings have a tighter fit through the leg, and with an Elasticated Waist but with plenty of room still for Nappies!
Harems have a lower more relaxed crotch and a loser fit with a Yoga style waistband. Ideal if your child wears Cloth Nappies.